According to information contained in the latest Database of Photovoltaic Projects in Poland, more than 10 GW of PV projects are currently under development in the market.  However, almost half of the projects have building permits - just under 5 GW in total. The database includes projects of various capacities - both those with a capacity of about 1 MW and larger farms. In the context of the upcoming RES auctions, which will take place in the first days of June, this information is important for all those interested in participating in this support system. For large projects (above 1 MW), a volume of 800 MW has been allocated in the RES 2021 auction and for small projects (below 1 MW) a volume of 1000 MW has been reserved.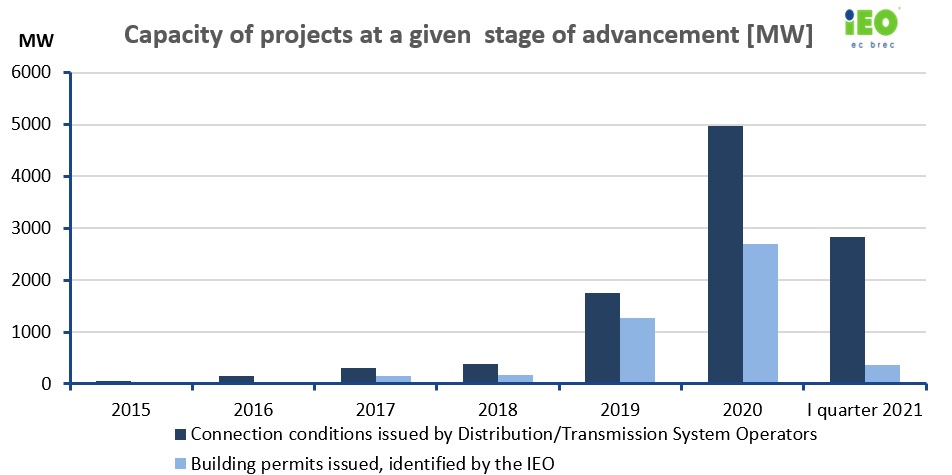 The dynamics of the connection conditions issued has significantly accelerated in recent quarters.  Throughout 2019, connection conditions were issued for projects with a total capacity of 1.7 GW and in 2020, almost 5 GW were already issued. However, in the first quarter of 2021 alone, the four largest distribution system operators issued connection conditions for 2.8 GW of projects - this is more than the total number of connection conditions issued over 10 years (between 2010 and 2019)!
Building permits are issued at a dynamic depending on the date of the RES auction. This is particularly the case for projects with a capacity of about 1 MW.  For this type of projects, the highest number of building permits is issued a month or two before the auction.  However, already now, one month before the planned RES auction, it can be concluded that the "small basket" will be filled and the competition will be high again. This is due to the fact that in the December 2020 auction the oversupply of projects was doubled and further new building permits have already been issued.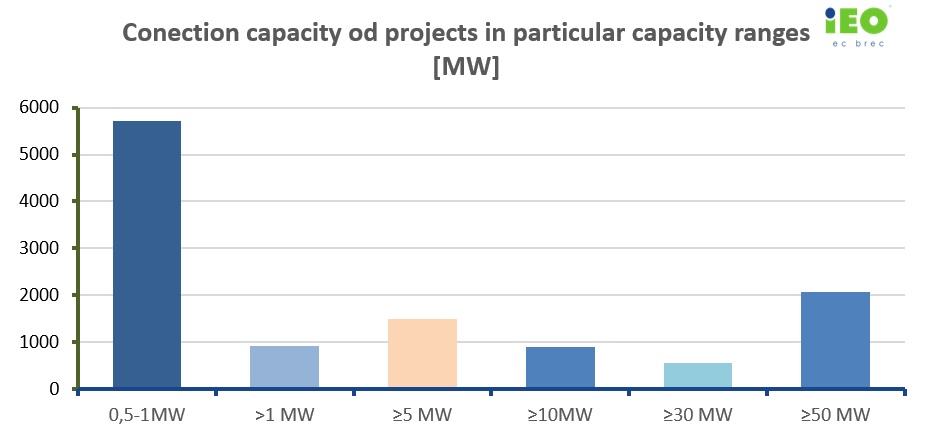 In the database Photovoltaic Projects in Poland, half of the projects are those with a capacity of about 1 MW. This is due to the fact that RES auctions developed mainly these small projects.  Volumes for the "small basket" were significant and investors took up all available capacity. In contrast, the "large basket" was dominated by wind projects and photovoltaics could not compete with them. It was only in the December 2020 auction in the "large basket", intended for wind and PV projects above 1 MW, that PV managed to occupy about half of the allocated volume. Currently, both small and large farms are being developed in the market - in terms of capacity, large projects account for half of the market. Most large projects are developed as farms with a capacity of over 50 MW.
More detailed information on the photovoltaic project market in Poland in the latest IEO database: